Video Transfer & Media Conversion Services
VIDEO / FILM / PHOTO / AUDIO
Preserve Your Memories with Our Video Transfer Service
Welcome to Envision Video Services, your trusted partner in preserving precious memories. Our professional video transfer service ensures that your cherished moments are safeguarded for future generations. We specialize in converting your old home movies, video tapes, film reels, audio cassettes, photo albums, negatives, and slides into digital formats.
We understand how important these memories are to you and your family and we believe that outdated technology shouldn't keep you from reliving them.
Why Choose Envision for Video Transfer and Media Conversion?
At Envision, we understand the value of your memories. Our team of experts uses state-of-the-art digitization equipment to provide high-quality video transfer services. We are committed to exceeding your expectations with our efficient VHS to Digital service, delivering clear images and crisp audio that breathe new life into your old videos.


We transfer them to digital format

 What Our Video Transfer & Media Conversion  Customers Are Saying
"I would not hesitate to use Envision again as well as recommend them to friends & family. They are honest, professional, and charge a reasonable amount. Our video conversion came out great! Forget the big-box stores…use Envision and you'll be thrilled with the results."
"We converted our family video tapes from 1994 to 2007 to DVD and USB formats. Envision Video Services did a wonderful and professional job promptly."
Finally be able to watch your old movies again
Share the memories with family and friends
Pass the memories down to the next generation
Our Video Transfer Services
Convert VHS to Digital / Video Transfer
Don't let your irreplaceable memories fade away with time. Our VHS to digital service transforms your old tapes into a format that's easy to store, share, and enjoy on modern devices.
Film Reel Transfer
Bring your old film reels into the digital age with our professional film reel transfer service. We handle 8mm, 16mm, 9.5mm, and Super 8 formats, preserving your family history in high-quality digital files.
Audio Cassette Digitization
Our audio cassette digitization service ensures your favorite soundtracks, recordings, and audio memories are preserved in crystal clear digital format.
Photo Album, Negatives, and Slides Digitization
We digitize photo albums, negatives, and slides, capturing every detail so you can relive your cherished moments anytime, anywhere.
Preserve Your Family History
Preserving your family history is a gift for future generations. Our video transfer / media  conversion services make it easy to share your family's story and keep your legacy alive. Whether you're local to Hasbrouck Heights, NJ, or located across the country, we're here to assist you with your video transfer / media conversion needs.
Learn More about our Video Transfer / Media Conversion Services on Our Blog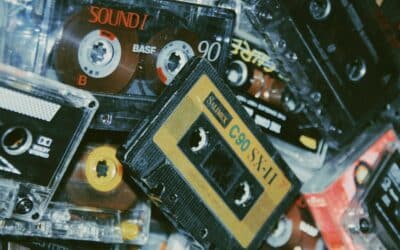 Most of us born before the year 2000 likely owned cassette tapes at some point. You might be surprised to learn that certain cassette tapes can sell for thousands of dollars. These items don't have to sit and collect dust if you don't plan on selling them, though....
Frequently Asked Questions
Do you perform all of your video transfer work on site or do you ship it off somewhere else?
Excellent question. As you may already have learned, many places that offer video transfer services such as ours do not do their own work, they ship it out to another location in another city, state, or even worse, another country.
But when you choose us to perform your work, you can rest assured that your project is safe and secure under one roof. We perform 99% of all work on site. We are experts in what we do. When you contact us you will speak directly with the people who will be performing the work on your project, not just a clerk who is taking an order. And by performing the video transfer work on-site, we can offer faster turn-around times. (Same day service is often available upon request.) We invite you to call or stop by our facility and meet our staff today!
Can I ship my materials to you or do I have to come to your office?
Either way is fine. If you choose to ship your materials to us, you can easily place your order online and then ship your package to us. When shipping, we recommend you ship them in a well padded box via a trackable carrier such as UPS, Fed-EX, or Priority Mail (flat rate boxes are especially easy to use). Please be sure to include a copy of your order, including your contact information (name, address, phone number and email address) in the package so we know who it is from.
Do you offer pick-up services?
YES! Depending on your location and the type of project you have, we may be able to help you out. Give us a call to discuss your needs and to see if we can help you get your project to us.
Can you transfer other materials not listed on your website?
YES! We have tried to list the most common items that we can transfer here however it would be impossible to list every service we offer. If you have a need that you do not see here, simply give us a call.  We have an extensive network of partners around the country, so in the event you have a need that we can not accommodate, we will be glad to point you in the right direction.
What is your turn-around time?
Typical turn-around time for our video transfer or media conversion projects is 2-3 weeks. This is completely dependent on the type of project you have and how busy we are at the moment. We always try to meet our clients needs however, so if your project has a specific deadline, simply let us know and we will do everything we can to accommodate it. For a more specific estimate of our current turn-around time for your specific project, give us a call.
Do you offer same day services?
YES! Since most of our work is done on our premises, we have full control of our workflow. If you need something right away, simply let us know. We always do our best to accommodate our clients needs and in many cases we are able to get projects done the same day that it is dropped off. Of course, this depends on the type of project that it is. Give us a call to discuss your specific needs.
Can you help me put a video on You Tube?
Yes we can! YouTube has certainly changed how we share our lives with the world! Knowing the ins and outs of things like editing formats and compression is essential to a successful uploading to YouTube. We take pride in knowing what it takes to do this and would love to help share your video with the world on YouTube.
Can you repair a damaged VHS Tape?
Yes we can! We will first need to inspect the damaged tape to see if it can be repaired, but in most cases we can repair ripped, torn, crushed, smashed, and water and smoke damaged tapes. Give us a call to discuss your options.
What if I have more questions?
Give us a call!  This is what we do, we'd love to speak with you and answer all of your questions.